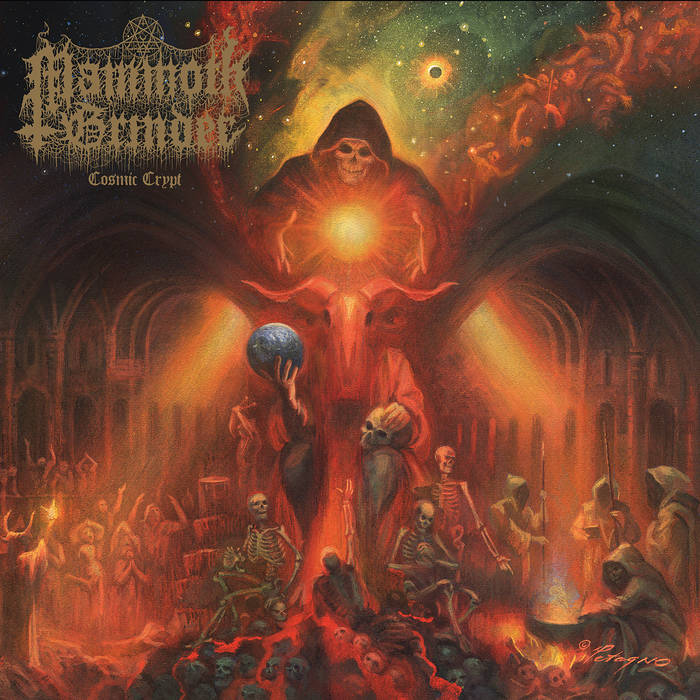 Bask in the glory of a textbook metal album cover. Not only do we have goat-headed demon gods, the cosmic spectre of death, tortured souls and mysterious hooded figures, we also get some sickly looking galaxies and a subterranean antechamber. This is some goddamn van mural territory and I love it.
The throwback renaissance that started with plain rock and roll has been slowly leeching its way down through the genre's, boiling up a vulgar banquet of historical aggression and hero worship. Here's two.
Power Trip – Nightmare Logic
Crossover thrash is a hooligan genre, taking the best from both basements and blowing the brims back. Having spent many years in love with Tempo Of The Damned and Age of Quarrel, Power Trip is like a blast of nostalgic whiplash, bringing me right back to teenaged years spent headbanging with a broken iPod.
Nightmare Logic is their second album after 2013's Manifest Decimation and continues the brawny trend of clubbing together the shaved heads and greasy locks, a bloodshot monster of guitar worship and forehead bruising enthusiasm.
Mammoth Grinder – Cosmic Crypt
Conveniently, Mammoth Grinder makes a great pairing even without the aesthetic similarities, as the drummer of Power Trip fills up the front of Mammoth Grinder (along with members from Iron Reagan). Apparently this same guy, Chris Ulsh, is also in Impalers, so yeah, he seems rad.
Cosmic Crypt is badass slab of classic death metal worship carried out by a bunch of shitty punks. Short, to-the-point, propulsive rippers, no air is spared for artistic indulgence or mindless wankery, with all 11 tracks sliding in just under the 30 minute mark. Just mid-tempo charge, charge, FUCKING CHARGE.